Honouring the remover of obstacles: Ganesh Chaturthi Puja: An Overview
India celebrates Ganesh Chaturthi, a prominent Hindu holiday, with great fervour and devotion. This event is especially devoted to the veneration of Lord Ganesha, the elephant-headed deity. He is considered as the God of beginnings and the remover of barriers.
In the Hindu calendar month of Bhadrapada, which corresponds to August or September in the Gregorian calendar, Ganesh Chaturthi, also known as Vinayaka Chaturthi, is observed.
Installation of clay Ganesha idols in residences and public pandals is a tradition especially associated with Ganesh Chaturthi. Over ten days, numerous rituals and puja ceremonies are conducted in order to worship the idols. Ganesh Chaturthi, the first day of the festival, signals the start of the celebrations.
In order to create a spiritual atmosphere, they gift the god sweets, fruits, and flowers, as well as light diyas and incense sticks.
The recital of mantras, the offering of prayers, and the performance of aarti are all part of the Ganesh Chaturthi puja rites. The puja service is conducted by priests with tremendous enthusiasm and dedication. They engage in numerous ceremonies to please the deity, chant mantras and solicit his blessings.
As a way of showing reverence to the god, many often maintain fasts during the festival.
The idols are carried to be submerged in water bodies like rivers, lakes, and oceans on the festival's last day. This is referred to as Ganesh Visarjan. It is a symbolic act of saying goodbye to the god and inviting him to return the next year.
The ambience is captivating as the procession of devotees sings, dances, and chants the Lord's name. This year Ganesh Chaturthi Puja falls on Tue, Sep 19, 2023.
Ganesh Chaturthi Puja: Importance and Significance
Ganesh Chaturthi is a festival of showing respect to Lord Ganesha. He is revered as the god of success in new endeavours, as well as intellect and knowledge. This festival bears a unique importance for Hindus. Some of the most essential reasons for celebrating Ganesh Chaturthi are as follows:
1. Celebrating the birth of Lord Ganesha:
Ganesh Chaturthi is the festival that commemorates the birth of Lord Ganesha. He is also considered one of the most well-liked deities in Hinduism. This festival is also known as the Festival of Lights.
Lord Ganesha is said to have been fashioned out of sandalwood paste by Goddess Parvati, and Lord Shiva was the one who gave him life, according to Hindu mythology.
It is thought that worshipping Him may assist individuals in overcoming challenges and achieving success in the things they pursue, and His birth serves as a sign of the beginning of something new.
2. Honoring the remover of obstacles:
Celebrating the one who removes obstructions, Lord Ganesha is called Vighnaharta, which literally translates to "the one who removes obstructions."
Many have the misconception that if they adore him, they will be able to triumph over every challenge that stands in their way and attain success in both their personal and professional life.
3. Promoting unity and community:
Ganesh Chaturthi is a festival that is celebrated by individuals from all walks of life, regardless of their caste, creed, or religion.
As a result, it serves to promote harmony and community. People get together to honour and venerate Lord Ganesha during the event, which serves to foster a sense of community and solidarity while also bringing people together.
4. Spreading joy and happiness:
Ganesh Chaturthi is a celebration that is celebrated with a lot of zeal all throughout India. This festival is all about spreading pleasure and happiness to others.
People get together with their loved ones to celebrate the holiday by exchanging gifts, sprucing up their houses with lights and flowers, and preparing delicious treats.
People are able to forget their cares and concerns in order to experience a renewed feeling of joy and contentment in their life as a result of the festival.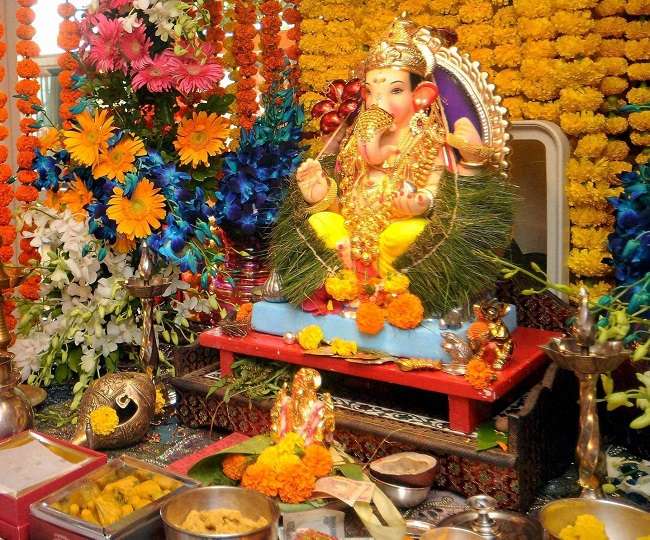 5. Strengthening faith and devotion:
 People's confidence in and devotion to Lord Ganesha is bolstered by participating in the puja rituals and celebrations that take place during Ganesh Chaturthi. They seek His blessings and show their thanks to Him through the recitation of mantras, the singing of bhajans, and the offering of prayers.
6. Preserving tradition and culture: 
Ganesh Chaturthi is an essential aspect of Hindu tradition and culture, and it is celebrated with a great deal of passion and devotion all throughout India. This helps to preserve the tradition and culture of the Hindu religion.
The event has been observed for a considerable amount of time, and as a result, it has been deeply ingrained in the customs and culture of India.
7. Environmental awareness:
In recent years, there has been a rising awareness of the environmental impact of the practice of immersing Ganesh idols in bodies of water. This practice has been criticized as being harmful to the environment.
As a consequence of this, a lot of individuals have started utilizing eco-friendly idols that are built of clay and other materials that decompose over time. This has assisted in increasing knowledge about environmental concerns and promoted the use of products that are environmentally friendly.
Ganesh Chaturthi Puja: Vidhis
The Ganesh Chaturthi puja rites and ceremonies are an essential element of the event and are carried out with great reverence and dedication. The following are some of the vidhis, or rituals, connected with the Ganesh Chaturthi puja:
1. Cleansing the home:
The house is completely cleaned before the puja to get rid of any filth, dust, or bad energy. Cleaning the home before the celebration is said to assist in generating a happy and pure atmosphere that is suitable for executing the puja procedures.
To make Lord Ganesha the centre of attention, all other deities' images and idols have been hidden or removed.
2. Purchasing a Lord Ganesh Murti/Idol:
One can purchase a clay statue of Lord Ganesha from a store or create one at home with clay or other biodegradable materials. According to the devotees' choices, the idol's size and shape may change.
Although some choose to purchase huge idols, others choose to purchase smaller ones. The idols are exquisitely embellished with garb, accessories, and brightly coloured clothing.
3. Murti Sthapana/Placing the Idol:
The Ganesha idol is placed on a pandal, a decked platform covered with lights, flowers, and other decorations. The living room or another dedicated puja area in the home is often where the pandal is put up.
Flowers, fruits, and other offerings are placed around the idol, which is set up on a fresh piece of fabric.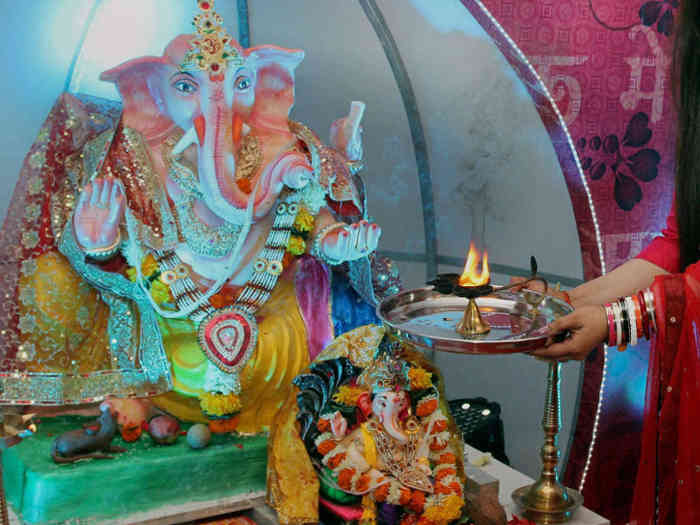 4. Invitation to Lord Ganesha:
Lord Ganesha is formally invited to visit and bless the home. Mantras and hymns are used to create the invitation, which is thought to invoke the divine's blessings.
In order to summon Lord Ganesha, the devotee undertakes a particular puja that involves repeating mantras and presenting flowers, fruits, and sweets.
5. Commencing the Puja:
Puja practices include lighting incense sticks and lamps, reciting mantras and hymns, and presenting flowers, fruits, and sweets to Lord Ganesha. The household leader or priest conducts the puja.
Lord Ganesha receives water from the devotee to wash his hands, feet, and mouth before receiving a bath of water, milk, and honey. Following this, mantras are chanted, and Lord Ganesha is presented with a variety of gifts, including flowers, fruits, and sweets.
6. Prasad Grahan/Offering Prasad:
Once the puja is over, Lord Ganesha receives prasad, which is often a treat composed of jaggery and coconut.
After then, family members and visitors get the prasad as a benediction from Lord Ganesha. Consuming the prasad is thought to bring luck and wealth.
7. Murti Visarjan/Idol Immersion:
On the last day of the celebration, Lord Ganesha's idol is carried in a procession and submerged in a body of water nearby. This ceremony ends the celebration and represents Lord Ganesha's return to his residence.
Mantra chanting and bhajan singing is heard during the parade.
8. Chanting mantras and Singing Bhajans: Throughout the festival, people chant mantras and hymns and sing devotional songs called bhajans to invoke the blessings of Lord Ganesha.
This promotes a spiritual environment that is favourable to requesting heavenly favours. Singing bhajans and reciting mantras together fosters a sense of community and commitment.

In conclusion, Ganesh Chaturthi puja is a celebration that encourages enlightenment, harmony, and environmental awareness. The festival offers several advantages, such as erasing barriers, fostering success and prosperity, improving knowledge and intellect, and fostering intercultural peace.
One can obtain the blessings of Lord Ganesha and enjoy these advantages in their life by doing the puja with dedication and sincerity. Also, the event offers a chance for individuals to unite and appreciate their differences.
It encourages a sense of unity and fraternity, which is crucial in today's society. The festival's environmental friendliness encourages individuals to adopt sustainable behaviours and raises awareness of environmental issues.
The Ganesh Chaturthi puja, as a whole, is a celebration that has many advantages and acts as a reminder of the value of spirituality, community, and environmental sustainability.
People of all religions and cultures should accept the significance of this occasion and celebrate it with passion and sincerity.
FAQs:
1. Which month usually this puja falls on?
Ganesh Chaturthi Puja is usually celebrated in the Hindu month of Bhadrapada, which falls between August and September according to the Gregorian calendar.
2. Is there an auspicious day to perform Ganesh Chaturthi Puja?
Yes, the fourth day of the waxing moon phase in the month of Bhadrapada is considered as the most auspicious day to perform Ganesh Chaturthi Puja.
3. Is any other god also worshipped during Ganesh Chaturthi Puja?
Yes, other deities such as Lord Shiva, Goddess Parvati, and Lord Vishnu are also worshipped during Ganesh Chaturthi Puja. The puja is performed to seek blessings from all the gods and goddesses for prosperity, success, and happiness.
4. Can non-Hindus perform Ganesh Chaturthi Puja?
Yes, non-Hindus can perform Ganesh Chaturthi Puja, as it is a festival celebrated by people of all religions and backgrounds. The puja can be performed with respect and devotion, regardless of one's religion or belief.
5. How much does it cost to perform Ganesh Chaturthi Puja?
The cost of performing Ganesh Chaturthi Puja can vary depending on various factors such as the location, the materials used, and the services of the priest. However, it can be performed with simple offerings and materials, and the cost can be minimal or even free if done at home.